Jejomar Binay, Mayor of Makati City




FRONT PAGE
About us

The 2010 results
The 2010 project
The 2010 finalists
Code of Ethics
The World Mayor Prize

The 2008 results
The 2008 project
The 2008 finalists
The World Mayor Award

The 2006 results
Methodology
The 2006 finalists
The World Mayor Award
Dora Bakoyannis congratulates John So

With Mayor of Amsterdam
With Mayor of Harrisburg
With Mayor of Melbourne
With Mayor of St Etienne

Mayor of Amsterdam
Mayor of Antananarivo
Mayor of Augsburg
Mayor of Denver
Mayor of Dubrovnik
Mayor of Harrisburg
Mayor of Makati City
Mayor of Melbourne
Mayor of St Etienne
Mayor of Valencia

On Mayor of Amsterdam
On Mayor of Antananarivo
On Mayor of Augsburg
On Mayor of Bangalore
On Mayor of Belo Horizonte
On Mayor of Denver
On Mayor of Dubrovnik
On Mayor of Harrisburg
On Mayor of Houston
On Mayor of Istanbul
On Mayor of Makati City
On Mayor of Melbourne
On Mayor of Mulhouse
On Mayor of New Orleans
On Mayor of New York
On Mayor of Phnom Penh
On Mayor of Sofia
On Mayor of St Etienne
On Mayor of Taipei
On Mayor of Toronto
On Mayor of Valencia (VE)

By Mayor of Amsterdam
By Mayor of Augsburg
By Mayor of Belo Horizonte
By Mayor of Dubrovnik
By Mayor of Makati City
By Mayor of Melbourne
By Mayor of Valencia

The 2005 results
Contest methodology
List of finalists
Winning mayors write
Mayor Rama writes - Mayor Bakoyannis replies

The 2004 contest
List of all 2004 finalists
Edi Rama wins 2004 award
People ask - Edi Rama replies

Front Page
Site Search
About City Mayors
Jejomar Binay
Mayor of Makati City, Philippines

Makati Mayor Jejomar Binay has shot to prominence as one of the most divisive yet popular figures in Philippine politics, possibly the embodiment of a city leader who can inspire the masses and irk the national political establishment. As well as a hard-earned reputation for sound city management, he can point to a leading role in restoring democracy to the Philippines after two decades of dictatorship. In 2006 he was included among the top ten mayors in the annual World Mayor project.

The hardworking mayor has seen off numerous crises, attacks and even term limits during his almost 20 year stint since taking charge of Manila's financial district. As with all awkward yet popular city leaders, he is frequently spoken of as a possible candidate for the presidency.

Makati, as well as serving as the country's financial hub, is also home to an array of top class hotels, shopping malls, skyscrapers and country clubs, rendering it something of a byword for opulence among those familiar with Filipino society. In 2004 Makati was ranked by the Asian Institute of Management as the Most Dynamic City and a year later as one of the Top 5 Most Competitive.

Binay's jurisdiction may cover the Manhattan-style skyline of the Filipino banking district but his origins are substantially more humble, born into quasi-poverty and orphaned early on, his first job was tending his uncle's pigs. Continuing to support himself through school, he managed to obtain a place at the University of the Philippines to study political science and then law, before being called to the bar a few years later.

Binay graduated and spent the next few years practising community law among the city's poor, this being the era in which the post-independence Philippines was subject to considerable internal tension (student unrest and Communist insurgency) and external intervention (CIA meddling), with the US-backed Ferdinand Marcos beginning his tenure as president and de facto dictator for the next two decades. It was during this period that Binay was imprisoned following the introduction of marshal law and state action against pro-democracy campaigners. Binay the lawyer remained committed to his human rights work and campaigning for the reintroduction of popular democracy against the kleptocratic and increasingly draconian Marcos regime (the so-called 'New Society' of constitutional authoritarianism).

With the resumption of popular rule following the ESDA revolution of 1986, Binay was installed as the officer in charge of the City of Makati under the transitional government of Cory Aquino, before securing three more terms as mayor, the only impediment to a fourth term coming in the form of term limits in 1998 (where his wife temporarily replaced him).

It is his stewardship of the city he found in near-bankruptcy that his earned him his reputation as a financially sound innovator in city governance, emerging as the most prominent mayor in the Philippines during this period as a result. Since overcoming the budget deficits he inherited on becoming mayor, as well as overseeing the upgrading of the city to a higher tier authority, Binay has transformed Makati into the country's leading municipality for e-governance, heralding the council's work towards paper-less transactions.

However, success can also provoke jealousy and begat enemies and Binay is certainly not short of these, as recent events have shown. Binay's popular touch with the city's poor and light touch approach to the business sector that has seen him traverse the communal divide in the highly polarised community may also contribute to this. The city is indeed notable for the pass porting of funds to finance special education and healthcare programmes for its poorest inhabitants. Furthermore, Binay belongs to the Philippine Democratic Party-National Struggle, which played a leading role in campaigning for the restoration of democracy in 1986 but is now regarded as small yet influential opposition party.

As ever, politics in the Philippines are in flux. The beleaguered and scandal-hit administration of President Arroyo (which has also faced a coup attempt this year) has been accused of seeking to remove unsympathetic mayors in the run-up to the May 2007 congressional and municipal elections. In addition to banning all 'unauthorised' demonstrations under a presidential decree, in October 2006 the Department of Interior and Local Government issued a suspension from office for Binay and several senior officials following an accusation of false accounting at city hall, a charge resisted by Binay, who secured a 60-day appeal against the order in the courts.

Binay and his family, as well as hundreds of supporters, holed themselves up in his city hall office in anticipation of forced removal and possible arrest and even the country's military were warned to remain impartial in the dispute (Binay is also a marines colonel in the reservist forces). Following the court's revocation of the government's order, thousands of supporters took to the streets of Manila to demonstrate their approval of the mayor, who is also backed by former presidents Aquino and Estrada, though the Arroyo administration remain determined that Binay will be suspended from office as part of its efforts to eradicate local corruption.

While Binay can rightly point to an inspiring track record as both a campaigner for democracy and a champion of the city's poor, there are those who claim the mayor operates as an autocrat and hides behind his populist rhetoric to disguise his machine-like grip on the city's politics, as evidenced by his virtually uninterrupted two decades in office (the only interregnum coming in the form of his wife during a term limited stint out of office). His supporters' grip on the most routine and minor aspects of daily life in the city and his continuing friendship with the deposed ex-president and fellow populist Joseph Estrada, currently awaiting trial for corruption, act as black marks for those critical of his administration.

Besides being a member of the Rotary Club of Makati, he is currently on his third term as the National President of the Boy Scouts of the Philippines. He also holds positions in international organisations, namely: Vice President for Membership (2006- 2008), United Cities and Local Governments-Asia Pacific Chapter; Life Honorary Member (since February 2001) and Member, World Executive Committee of the International Union of Local Authorities-Asia Pacific; Member, Executive Committee (2006-2009), Network for Local Authorities for the Management of Human Settlement (CITYNET); and Chairman, Finance Sub-Committee, World Scout Organization. Mayor Binay was also a senior executive fellow of the John F. Kennedy School of Government at Harvard University. He is married to Dr Elenita Binay, a medical practitioner and herself the former mayor of Makati (1998-2001). They have five children.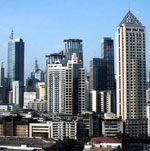 Makati City, the financial capital of the Philippines





AFRICA
• Mayor of Antananarivo, Madagascar
• Mayor of Johannesburg, South Africa
• Mayor of Maputo, Mozambique
• Mayor of Tunis, Tunisia

NORTH AMERICA
• Mayor of Calgary, Canada
• Mayor of London, Canada
• Mayor of Toronto, Canada
• Mayor of Denver, USA
• Mayor of Harrisburg, USA
• Mayor of Houston, USA
• Mayor of New Orleans, USA
• Mayor of New York City, USA
• Mayor of Portland, USA
• Mayor of Seattle, USA

SOUTH AMERICA
• Mayor of Belo Horizonte, Brazil
• Mayor of Curitiba, Brazil
• Mayor of Bogota, Colombia
• Mayor of Quito, Ecuador
• Mayor of San José de Mayo, Uruguay
• Mayor of Valencia, Venezuela

ASIA
• Mayor of Phnom Penh, Cambodia
• Mayor of Chengdu, China
• Mayor of Shanghai, China
• Mayor of Bangalore, India
• Mayor of Jaipur, India
• Mayor of Rishon-LeZion, Israel
• Mayor of Tokyo, Japan
• Mayor of Nablus, Palestine
• Mayor of Angeles City, Philippines
• Mayor of Makati City, Philippines
• Mayor of Taipei, Taiwan
• Mayor of Istanbul, Turkey

AUSTRALASIA
• Mayor of Melbourne, Australia
• Mayor of Wellington, New Zealand

EUROPE
• Mayor of Sofia, Bulgaria
• Mayor of Dubrovnik, Croatia
• Mayor of Mulhouse, France
• Mayor of St Etienne, France
• Mayor of Augsburg, Germany
• Mayor of Bonn, Germany
• Mayor of Potsdam, Germany
• Mayor of Bologna, Italy
• Mayor of Luxembourg City, Luxembourg
• Mayor of Amsterdam, The Netherlands
• Mayor of Porto, Portugal
• Mayor of Oradea, Romania
• Mayor of Zaragoza, Spain
• Mayor of Valencia, Spain
• Mayor of Zurich, Switzerland
• Mayor of Middlesbrough, UK