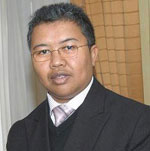 Patrick Ramiaramanana, Mayor of Antananarivo




FRONT PAGE
About us

The 2010 results
The 2010 project
The 2010 finalists
Code of Ethics
The World Mayor Prize

The 2008 results
The 2008 project
The 2008 finalists
The World Mayor Award

The 2006 results
Methodology
The 2006 finalists
The World Mayor Award
Dora Bakoyannis congratulates John So

With Mayor of Amsterdam
With Mayor of Harrisburg
With Mayor of Melbourne
With Mayor of St Etienne

Mayor of Amsterdam
Mayor of Antananarivo
Mayor of Augsburg
Mayor of Denver
Mayor of Dubrovnik
Mayor of Harrisburg
Mayor of Makati City
Mayor of Melbourne
Mayor of St Etienne
Mayor of Valencia

On Mayor of Amsterdam
On Mayor of Antananarivo
On Mayor of Augsburg
On Mayor of Bangalore
On Mayor of Belo Horizonte
On Mayor of Denver
On Mayor of Dubrovnik
On Mayor of Harrisburg
On Mayor of Houston
On Mayor of Istanbul
On Mayor of Makati City
On Mayor of Melbourne
On Mayor of Mulhouse
On Mayor of New Orleans
On Mayor of New York
On Mayor of Phnom Penh
On Mayor of Sofia
On Mayor of St Etienne
On Mayor of Taipei
On Mayor of Toronto
On Mayor of Valencia (VE)

By Mayor of Amsterdam
By Mayor of Augsburg
By Mayor of Belo Horizonte
By Mayor of Dubrovnik
By Mayor of Makati City
By Mayor of Melbourne
By Mayor of Valencia

The 2005 results
Contest methodology
List of finalists
Winning mayors write
Mayor Rama writes - Mayor Bakoyannis replies

The 2004 contest
List of all 2004 finalists
Edi Rama wins 2004 award
People ask - Edi Rama replies

Front Page
Site Search
About City Mayors
Patrick Ramiaramanana
Mayor of Antananarivo, Madagascar
Patrick Ramiaramanana first joined the Municipality of Antananarivo (Madagascar) in 2002 as an inspector. One year later, in December 2003, he was elected Mayor of the city, capital of Madagascar, while he was president of the special delegation of the Commune Urbaine of Antananarivo, created during the political events of 2001. In 2006 he was included among the top ten mayors in the annual World Mayor project.

Patrick Ramiaramanana studied at Düsseldorf (Germany) University where he took his doctorate in chemistry, specialising in electrochemistry. He then did research work at the Jülich Research Centre for several years before returning to Madagascar in 1997 to join the Tiko Group, where he held different managerial positions.

In accordance with the Malagasy Government's policies, the country's development is strongly linked to municipal and regional development. Aware of this, Patrick Ramiaramanana vision is to develop local authorities so as to strengthen the capacity of the municipality and manage its development programs in each local district of the city.

Thus, for the past two years, he has concentrated on the rehabilitation of Antananarivo to make it more liveable. His idea is to create a synergy between the people of Antananarivo and their leaders and to rebuild the city through a vision of sustainable development by applying long-term programs.

The objective of the mayor's program is to make Antananarivo "a developed and clean city where people enjoy living".

Because of his deep concern over local needs and the struggle against poverty and the social actions he has implemented, he has become very popular. In recognition of this, he was elected Man of the Year 2003 while he was still President of the Special Delegation.

His experiences abroad, while studying and working, explain his willingness to open up Antananarivo to international recognition as a. special city with many assets. With this idea constantly at the forefront of his mind, he has participated in the work of different international organisations such as the Cités et Gouvernements Locaux Unis (CGLU) and the Association Internationale des Maires Francophones (AIMF) or Metropolis. The policy is proving to be a success in relation both to the international conferences that have taken place in Antananarivo this year and the investors that are arriving in the special economic zones.

His strong leadership and concern for making Antananarivo a better place to live and to have international standing, resulted in his being presented with the 2005 Metropolis Award during the last conference in Berlin in May. On that occasion Patrick Ramiaramanana was also made vice president of the African Region to represent African countries in Metropolis.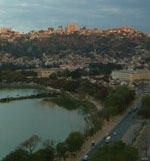 Madagascar's capital city Antananarivo





AFRICA
• Mayor of Antananarivo, Madagascar
• Mayor of Johannesburg, South Africa
• Mayor of Maputo, Mozambique
• Mayor of Tunis, Tunisia

NORTH AMERICA
• Mayor of Calgary, Canada
• Mayor of London, Canada
• Mayor of Toronto, Canada
• Mayor of Denver, USA
• Mayor of Harrisburg, USA
• Mayor of Houston, USA
• Mayor of New Orleans, USA
• Mayor of New York City, USA
• Mayor of Portland, USA
• Mayor of Seattle, USA

SOUTH AMERICA
• Mayor of Belo Horizonte, Brazil
• Mayor of Curitiba, Brazil
• Mayor of Bogota, Colombia
• Mayor of Quito, Ecuador
• Mayor of San José de Mayo, Uruguay
• Mayor of Valencia, Venezuela

ASIA
• Mayor of Phnom Penh, Cambodia
• Mayor of Chengdu, China
• Mayor of Shanghai, China
• Mayor of Bangalore, India
• Mayor of Jaipur, India
• Mayor of Rishon-LeZion, Israel
• Mayor of Tokyo, Japan
• Mayor of Nablus, Palestine
• Mayor of Angeles City, Philippines
• Mayor of Makati City, Philippines
• Mayor of Taipei, Taiwan
• Mayor of Istanbul, Turkey

AUSTRALASIA
• Mayor of Melbourne, Australia
• Mayor of Wellington, New Zealand

EUROPE
• Mayor of Sofia, Bulgaria
• Mayor of Dubrovnik, Croatia
• Mayor of Mulhouse, France
• Mayor of St Etienne, France
• Mayor of Augsburg, Germany
• Mayor of Bonn, Germany
• Mayor of Potsdam, Germany
• Mayor of Bologna, Italy
• Mayor of Luxembourg City, Luxembourg
• Mayor of Amsterdam, The Netherlands
• Mayor of Porto, Portugal
• Mayor of Oradea, Romania
• Mayor of Zaragoza, Spain
• Mayor of Valencia, Spain
• Mayor of Zurich, Switzerland
• Mayor of Middlesbrough, UK