Alfredo Sanchez Monteseirin, Mayor of Seville, Spain, and World Mayor finalist for Europe




FRONT PAGE
About us

The 2010 results
The 2010 project
The 2010 finalists
Code of Ethics
The World Mayor Prize

The 2008 results
The 2008 project
The 2008 finalists
The World Mayor Award

The 2006 results
Methodology
The 2006 finalists
The World Mayor Award

The 2005 results
Contest methodology
List of finalists
The World Mayor Award

Mayor of Athens
Mayor of Guatemala City
Mayor of Mississauga
Mayor of San Fernando
Mayor of San Francisco

Mayor of Athens
Mayor of Guatemala City
Mayor of Mississauga
Mayor of San Fernando
Mayor of Vienna

Comments on finalists from The Americas
Comments on finalists from Europe
Comments on finalists from Asia, Australia and Africa
Comments on Addis Ababa
Comments on Antananariva
Comments on Athens
Comments on Atlanta
Comments on Belo Horizonte
Comments on Bonn
Comments on Guatemala City
Comments on Karachi
Comments on London
Comments on Melbourne
Comments on Mississauga
Comments on Rio de Janeiro
Comments on Rome
Comments on San Fernando
Comments on San Francisco
Comments on Toronto
Comments on Vancouver
Comments on Vienna

Mayor of Addis Ababa
Mayor of Antananarivo
Mayor of Athens
Mayor of Belo Horizonte
Mayor of Bonn
Mayor of Ekaterinburg
Mayor of Guatemala City
Mayor of Innsbruck
Mayor of Karachi
Mayor of Kiev
Mayor of Melbourne
Mayor of Mississauga
Mayor of Munich
Mayor of Rhodes
Mayor of Rome
Mayor of Tshwane
Mayor of Vienna

The 2004 contest
List of all 2004 finalists
Edi Rama wins 2004 award
People ask - Edi Rama replies
Why we voted for the Mayor of Tirana
Why we voted for the Mayor of Mexico City
History of Tirana

Front Page
Site Search
About City Mayors
List of finalists for
World Mayor 2004


| | | | |
| --- | --- | --- | --- |
| Region | Country | City | Mayor |
| Africa | Morocco | Casablanca | Mr Mohamed Sajid |
| Africa | South Africa | Pretoria | Mr Smangaliso Mkhatshwa |
| Africa | Tunisia | Tunis | Mr Abbes Mohsen |
| Americas | Brazil | Rio de Janeiro | Mr Cesar Maia |
| Americas | Brazil | São Paulo | Ms Marta Suplicy |
| Americas | Canada | Mississauga | Ms Hazel McCallion |
| Americas | Canada | Ottawa | Mr Bob Chiarelli |
| Americas | Canada | Vancouver | Mr Larry W. Campbell |
| Americas | Colombia | Manizales | Mr Nestor Eugenio Ramirez Cardona |
| Americas | Guatemala | Antigua | Mr Victor Hugo del Pozo |
| Americas | Mexico | Mexico City | Mr Andres Manuel Lopez Obrador |
| Americas | USA | Atlanta | Ms Shirley Franklin |
| Americas | USA | Baltimore | Mr Martin O'Malley |
| Americas | USA | Boston | Mr Thomas M. Menino |
| Americas | USA | Delray Beach | Mr Jeff Perlman |
| Americas | USA | Miami | Mr Manuel A. Diaz |
| Americas | USA | Rochester | Mr William A. Johnson |
| Americas | USA | San Francisco | Mr Gavin Newsom |
| Americas | USA | South Bay | Mr Clarence Anthony |
| Americas | USA | St Paul | Mr Randy Kelly |
| Asia | Japan | Hiroshima | Mr Tadatoshi Akiba |
| Asia | Lebanon | Beirut | Mr Abdel Meneem Al-Ariss |
| Asia | Nepal | Kathmandu | Mr Keshav Sthapit* |
| Asia | Palestine | Nablus | Mr Ghassan W Shakah* |
| Asia | Turkey | Ankara | Mr Melih Gokcek |
| Europe | Albania | Tirana | Mr Edi Rama |
| Europe | Austria | Vienna | Mr Michael Häupl |
| Europe | Denmark | Copenhagen | Mr Jens Kramer Mikkelsen*** |
| Europe | France | Besançon | Mr Jean-Louis Fousseret |
| Europe | France | Mulhouse | Mr Jean-Marie Bockel |
| Europe | France | Nantes | Mr Jean-Marc Ayrault |
| Europe | France | Paris | Mr Bertrand Delanoe |
| Europe | Germany | Berlin | Mr Klaus Wowereit |
| Europe | Germany | Cologne | Mr Fritz Schramma |
| Europe | Germany | Freiburg | Dr Dieter Salomon |
| Europe | Germany | Leipzig | Mr Wolfgang Tiefensee |
| Europe | Germany | Munich | Mr Christian Ude |
| Europe | Germany | Stuttgart | Dr Wolfgang Schuster |
| Europe | Greece | Athens | Mrs Dora Bakoyannis |
| Europe | Hungary | Budapest | Mr Gábor Demzsky |
| Europe | Italy | Rome | Mr Walter Veltroni |
| Europe | Italy | Turin | Mr Sergio Chiamparino |
| Europe | Lithuania | Vilnius | Mr Artûras Zuokas |
| Europe | Portugal | Lisbon | Mr Pedro Santana Lopes** |
| Europe | Russia | Moscow | Mr Yuri Luzhkov |
| Europe | Spain | Barcelona | Mr Juan Clos |
| Europe | Spain | Seville | Mr Alfredo Sanchez Monteseirin |
| Europe | Sweden | Stockholm | Ms Annika Billstrom |
| Europe | UK | London | Mr Ken Livingstone |

*Please note that due to the political and security situations in Nepal and Palestine the Mayors of Kathmandu and Nablus resigned from office. However, they remained in the project World Mayor 2004.

**On 17 July 2004 Lisbon Mayor Pedro Santana Lopes was sworn in as Portugal's new Prime Minister after the decision of the previous Prime Minister, Jose Manuel Barroso, to accept the office of Commission President of the European Union.

***Mr Jens Kramer Mikkelsen resigned as Mayor of Copenhagen in November 2004.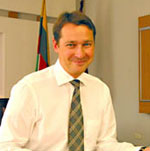 Arturas Zuokas, Mayor of Vilnius, Lithuania, and World Mayor finalist for Europe


Introducing
World Mayor 2006
The World Mayor project is now in its third year. As in 2004 and 2005, this year's World Mayor will again be seeking out mayors who have the vision, passion and skills to make their cities amazing places to live in, work in and visit. The World Mayor project aims to show what outstanding mayors can achieve and raise their profiles. It honours those who have served their communities well and who have made contributions to the well-being of cities nationally and internationally. The most outstanding mayor of 2006 will be presented with the World Mayor award.

In 2004, Edi Rama, Mayor of Tirana, won the Award. The 2005 winner was Dora Bakoyannis, Mayor of Athens and now Greek Foreign Minister.

Between January and May each year, citizens from across the world are invited to nominate mayors for the World Mayor Award. They are also asked to provide reasons for their choice. After the close of the nomination stage, City Mayors, the organisers of the contest, prepare a shortlist of mayors who go forward to the second round of the World Mayor contest. In 2006, the list of finalists includes 50 mayors from North and South America, Europe, Asia, Australasia as well as Africa.