FRONT PAGE
About World Mayor
City Mayors Foundation
Email
worldmayor@gmail.com
Tel: +44 20 8439 7978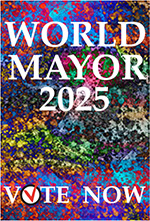 WORLD MAYOR 2018
• VOTE NOW
• Shortlist 2018

• Longlist 2018
• Raison d'être
• World Mayor history
• World Mayor Prize
• Code of Ethics
• Criteria
• Meet the Press
---
WORLD MAYOR 2016
• Results 2016
• Project 2016

• Shortlist 2016
• Longlist 2016
• Code of Ethics
• World Mayor Prize
• World Mayor Histor
y
• Raison d'être
INTERVIEWS WITH
• Mayor of Athens
• Mayor of Lahr
• Mayor of Mechelen
TESTIMONIALS
• Mayor of Aleppo
• Mayor of Amstelveen
• Mayor of Athens
• Mayor of Cologne
• Mayor of Gdansk
• Mayor of Grande-Synthe
• Mayor of Hettstedt
• Mayor of Lahr
• Mayor of Lampedusa
• Mayor of Lesbos
• Mayor of Mechelen
• Mayor of Philadelphia
• Mayor of Schwäbisch Gmünd
ESSAYS BY
• Mayor of Aleppo
• Mayor of Amstelveen
• Mayor of Athens
• Mayor of Gdansk
• Mayor of Lahr
• Mayor of Mechelen
• Mayor of Schwäbisch Gmünd
PROFILES OF
• Mayor of Amstelveen
• Mayor of Athens
• Mayor of Cologne
• Mayor of Gdansk
• Mayor of Grande-Synthe
• Mayor of Lahr
• Mayor of Lampedusa
• Mayor of Lesbos
• Mayor of Mechelen
• Mayor of Schwäbisch Gmünd
---
WORLD MAYOR 2014
WORLD MAYOR 2012
WORLD MAYOR 2010
WORLD MAYOR 2008
WORLD MAYOR 2006
WORLD MAYOR 2005
WORLD MAYOR 2004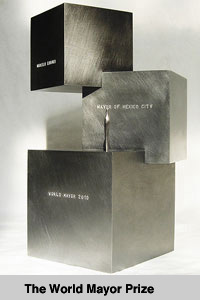 World Mayor 2016
Mayors with Courage
Compassion and
Competence sought
Without migration, the world as we know it would not exist. The first humans would not have left Africa, trade and industry would not have flourished, and today's civilisations and religions would not have developed. All the world's great cities have benefited from migrants, whose perseverance in the face of hardship and often prejudice has created the civic societies that we value and enjoy today.

The 2016 World Mayor Prize will be conferred to a mayor who has accepted the challenges posed by migration but is also convinced of its longterm benefits. He or she will be leading a city where past and/or more recent immigrants have contributed to the city's society, economy and culture. The City Mayors Foundation, the organiser of the biennial World Mayor Project, will also consider a mayor for the Prize whose community has shown exceptional resilience during the recent arrivals from disaster-torn regions of the world.

The winner of the 2016 World Mayor Prize and
other results will be announced on 14 February 2017

The City Mayors Foundation is looking for mayors who have recognised that people, whatever their origin, status or background, are the greatest capital the world has to offer. This year's World Mayor Project has identified mayors whose cities have done the most to welcome immigrants and have used their skills to enrich and diversify society culturally, economically and socially.

At a time when there are some 60 million refugees worldwide, mayors to be considered for the World Mayor honours will also need to have shown compassion, courage and competence. Compassion for people who have travelled great distances to find safety. Courage to fight prejudice even in the face of unpopularity. Competence to leverage the value and potential each person offers society.

The City Mayors Foundation has shortlisted 15 exceptional mayors who have demonstrated these qualities.

You are now invited to support your favourite candidate for this year's World Mayor Prize. When voting for him or her please also outline the mayor's qualities and perhaps give information of the success of his/her city in integrating immigrants in the past and supporting more recent newcomers. You may also provide examples of contributions made by immigrants and challenges faced and mastered by towns and cities.

By taking part in the 2016 World Mayor Project you are also recognising the efforts and sacrifices made by towns and cities as well as by many smaller communities.

For your information: The World Mayor Project, organised by the philanthropic City Mayors Foundation since 2004, has no connection with any city or organisation and is run on strictly non-commercial lines. Sponsorships, advertising, subscriptions, donations or any other kind of revenue are NOT sought and will be rejected, if offered.

Please contact us if you have any further questions. Please insert 'World Mayor 2016' in the subject line of any email.