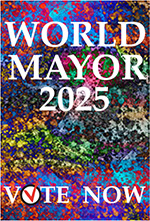 FRONT PAGE
About World Mayor
City Mayors Foundation
Email
worldmayor@gmail.com
Tel: +44 20 8439 7978





WORLD MAYOR 2018
• VOTE NOW
• Shortlist 2018

• Longlist 2018
• Raison d'être
• World Mayor history
• World Mayor Prize
• Code of Ethics
• Criteria
• Meet the Press
---
WORLD MAYOR 2016
• Results 2016
• Project 2016

• Shortlist 2016
• Longlist 2016
• Code of Ethics
• World Mayor Prize
• World Mayor Histor
y
• Raison d'être
INTERVIEWS WITH
• Mayor of Athens
• Mayor of Lahr
• Mayor of Mechelen
TESTIMONIALS
• Mayor of Aleppo
• Mayor of Amstelveen
• Mayor of Athens
• Mayor of Cologne
• Mayor of Gdansk
• Mayor of Grande-Synthe
• Mayor of Hettstedt
• Mayor of Lahr
• Mayor of Lampedusa
• Mayor of Lesbos
• Mayor of Mechelen
• Mayor of Philadelphia
• Mayor of Schwäbisch Gmünd
ESSAYS BY
• Mayor of Aleppo
• Mayor of Amstelveen
• Mayor of Athens
• Mayor of Gdansk
• Mayor of Lahr
• Mayor of Mechelen
• Mayor of Schwäbisch Gmünd
PROFILES OF
• Mayor of Amstelveen
• Mayor of Athens
• Mayor of Cologne
• Mayor of Gdansk
• Mayor of Grande-Synthe
• Mayor of Lahr
• Mayor of Lampedusa
• Mayor of Lesbos
• Mayor of Mechelen
• Mayor of Schwäbisch Gmünd
---
WORLD MAYOR 2014
WORLD MAYOR 2012
WORLD MAYOR 2010
WORLD MAYOR 2008
WORLD MAYOR 2006
WORLD MAYOR 2005
WORLD MAYOR 2004
WORLD MAYOR 2016
The City Mayors Foundation has invited the mayors shortlisted for the 2016 World Mayor Prize to contribute their thoughts on the challenges faced by and opportunities offered to their communities following the arrival of hundreds, if not thousands, of refugees and migrants from war zones and desaster-torn regions of the world. Below Richard Arnold, Mayor of Schwäbisch Gmünd, Germany, explains how his city's much admired acceptance and integration of refugees are based on Christian ideals.


Essay by Richard Arnold
Mayor of Schwäbisch Gmünd, Germany
"People say: There are too many refugees.
Refugees say: There are too few good people."
The ambivalence of this thought, expressed by the Austrian teacher and writer Ernst Ferstl, seems to me to describe rather well our current reality. On the one hand, I sense that people worry about the prospect of future flows of refugees – the reasons may be political, economic or religious. On the other hand, there is a dissatisfaction about the way we approach the refugees who have come here, are among us and are looking for safety and a new home.

In German, a municipality is often referred to as a 'Kommune', a commune. In my work as mayor, I try to always keep in mind the origin of the word "commune": community! And refugees are part of the community in our city. For this reason, Schwäbisch Gmünd some years ago decided to set out on a way to integrate the asylum seekers and refugees living in the city. To achieve this, a concept was developed, which has been continually refined and which has become known as the "Schwäbisch Gmünd Way".

The "Schwäbisch Gmünd Way" starts out from the premise that all asylum seekers and refugees are to become an integral part of the whole community. In doing this, following the Christian ideal is vital, according to which the individual and his or her abilities and talents must be at the core of all our endeavours.

Right from the start, refugees in Schwäbisch Gmünd are consistently supported and integrated into community life in accordance with a specific plan. We, as a community, see this support as an integral element of a life in dignity, especially in a new environment. Our concept offers a five-step-plan of orientation, combining individual support with certain demands.

At first, all newly arrived refugees are given the opportunity to make new acquaintances at a 'welcome reception' held as soon as possible after their arrival. 'Welcome guides', volunteers or employees of the city, present the city's "welcome culture". On the next step, the refugees attend language courses in accordance with their individual skills, which is key for access to the local community.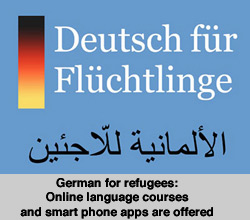 What is very important to us is providing the refugees with the opportunity to participate in volunteer work and giving them the chance to try themselves out in charitable activities. Furthermore, focus is set on education, vocational training and employment. This has to be accompanied by other measures, in particular the provision of suitable accommodation. Here, the refugees receive support from a number of cooperating partners as well as their individual mentors who join us on the 'Schwäbisch Gmünd Way'.

This is about more than merely housing the asylum seekers and refugees. It is about true acceptance and integration into the local community. This is why the city of Schwäbisch Gmünd seeks to provide the refugees with individual accommodation, in all areas of the city.

These are the first steps of an ambitious, but rewarding way: A proactive policy of integration of asylum seekers and refugees will in the medium and long term mitigate conflicts and will pay off. In my view, we must prevent tendencies of separation and non-participation in the social life of the community.

Certainly, in all our endeavours the disadvantaged must not be neglected or even forgotten. For this, a sense of community, solidarity and mutual support are necessary. For it is not the administration that integrates the asylum seekers and refugees, but our local citizens.