FRONT PAGE
About World Mayor
City Mayors Foundation
Email


---
WORLD MAYOR 2018
• Preview 2018
• World Mayor history
• World Mayor Prize
• Code of Ethics

---
WORLD MAYOR 2016
WORLD MAYOR 2014
WORLD MAYOR 2012
WORLD MAYOR 2010
WORLD MAYOR 2008
WORLD MAYOR 2006
WORLD MAYOR 2005
WORLD MAYOR 2004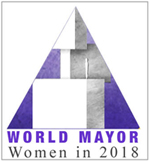 2018 World Mayor Project
dedicated to women mayors
December 2017: The 2018 World Mayor Project will be dedicated to women in local government. It will feature the achievements of women mayors from across the world and honour the best of them. The all-women long- and shortlists will include mayors from towns and cities of all sizes who serve with integrity, determination and imagination. The 2018 World Mayor Prize and Commendations will be conferred on women who have made outstanding and long-lasting contributions to their communities.

Women fought prejudice and struggled for equal rights and opportunities for hundreds of years. They did it with courage and resolve. In the 20th and early 21st centuries, women have achieved success in many spheres previously reserved to or monopolised by men, but their contributions are still often undervalued and their potential not recognised enough.

In local government, particularly in politics, women are under-represented. While a number of prominent cities, like Tokyo, Madrid, Washington, Rome and Sydney, have elected female mayors, according to research by the City Mayors Foundation, the organisers of the World Mayor Project, only some twenty per cent of the world's mayors are women. It is also estimated that only between 30 and 35 per cent of city councillors are female. The percentage of women in local government varies, of course, considerably from country to country and city to city. For example in late 2017, six out of Sydney's ten councillors were female, while in Tokyo the percentage of female councillors was below 30. City Mayors' research in the US shows that while just under 20 per cent of the largest American cities have female mayors, more than 32 per cent of municipal councillors are women. (Largest cities with women mayors ||| Women in US local government)

In previous World Mayor Projects, female mayors have always featured prominently, indeed the 2005 and 2008 Prizes were awarded to women, but by dedicating the 2018 Project entirely to women in local government, we hope to be able to feature more female city leaders, at greater depth. We wish to show what outstanding women mayors achieve all over the world. By doing so, we hope to encourage more women to contemplate a career in local government and run for political office.

The women who will be awarded the 2018 World Mayor Prize and other honours will be role models for young women and, indeed, men everywhere.

The 2018 World Mayor Project will be launched in January 2018 but you may already nominate female mayors, who you feel should be considered for the 2018 World Mayor Prize. Please email us their names and cities and outline their achievements and qualities.