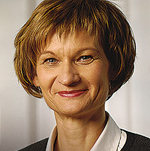 Barbara Ludwig, Mayor of Chemnitz, Germany, since 2006

WORLD MAYOR 2018

Dedicated to women mayors
The 2018 World Mayor Prize and Commendations will be conferred on women mayors who have made outstanding and long-lasting contributions to their communities. The organisers wish to show what outstanding women mayors achieve all over the world. By doing so, they hope to encourage more women to contemplate a career in local government and run for political office. The women, who will be awarded the 2018 World Mayor Prize and other honours, will be role models for young women and, indeed, men everywhere. Qualities sought ||| Barbara Ludwig, Mayor of Chemnitz, Germany, was longlisted for the 2018 World Mayor Prize. |||
---
FRONT PAGE
About World Mayor
City Mayors Foundation
Email


---

WORLD MAYOR 2018
• VOTE NOW
• Shortlist 2018
• Longlist 2018
• Raison d'être
• World Mayor history
• World Mayor Prize
• Code of Ethics
• Criteria
• Meet the Press

TESTIMONIALS
• Mayor of Alphen / Rijn
• Mayor of Ancona
• Mayor of Baden-Baden
• Mayor of Calais
• Mayor of Chemnitz
• Mayor of Cologne
• Mayor of Cozumel
• Mayor of Doncaster
• Mayor of Fort Worth
• Mayor of Grand Rapids
• Mayor of Lille
• Mayor of Lodz
• Mayor of Molenbeek
• Mayor of Narayanganj
• Mayor of Oakland
• Mayor of Omaha
• Mayor of Paris
• Mayor of Rennes
• Mayor of Reutlingen
• Mayor of Saarbrücken
• Mayor of San Juan
• Mayor of Trbovlje
• Mayor of Tunis
• Mayor of Zamboanga
• Mayor of Zurich


---
WORLD MAYOR 2016
WORLD MAYOR 2014
WORLD MAYOR 2012
WORLD MAYOR 2010
WORLD MAYOR 2008
WORLD MAYOR 2006
WORLD MAYOR 2005
WORLD MAYOR 2004

Nominations for
Barbara Ludwig
Mayor of Chemnitz (Germany)
Nominated by Maria I. S., Chemnitz:
Frau Oberbürgermeisterin Ludwig ist eine Frau, die unsere Stadt seit 12 Jahren ohne Skandale und sehr bürgernah führt. Chemnitz hat sich zu einer weltoffenen,modernen und grünen Stadt entwickelt mit steigenden Einwohnerzahlen. Mit viel Fingerspitzengefühl und Toleranz führt sie die gewählten Vertreter aller polit.Fraktionen der Stadt. Chemnitz hat sich unter ihrer Leitung im Bereich Kunst und Kultur und im Leistungssport international einen Namen gemacht. Sie hätte es verdient, dafür als beste Stadtchefin der Welt ausgezeichnet zu werden. Ich wünsche ihr viel Glück und alles Gute für die Zukunft.


Nominated by Gertraud G., Chemnitz:
Die Frau Bürgermeisterin hat eine ehemalige graue Industriemetropole, das Sächsische Manchester zu einer lebenswerte, und liebenswerten Stadt gemacht. Altes erhaltenswertes erhalten und dem Neuen einen Platz gegeben. Ich mag sie sehr und wünsche ihr viel Glück bei der Wahl.
Herausforderungen für Chemnitz: Herausforderungen sind zum Beispiel, das hier das Erstaufnahmelager für Asylanten in Sachsen ist. Bis vor Kurzem das einzige in Sachsen. Es gelang ihr in Ausgewogenheit, Eskalationen zu verhindern. In dem sie die zuständigen staatlichen Organe und zivile Organisationen, zur ins Gleichgewicht brachte. Nicht zuviel Nachgiebigkeit und nicht zu viel Druck. Kontrollen und Hilfestellung. Durch Polizei und Ordnungsamt. Ich bin nicht persönlich mit ihr bekannt. Bin nur ständig interessiert was in der Stadt, dem Staat und der Welt passiert.

Translation by Google:
The mayor has turned a former grey industrial city, the 'Manchester of Saxony' into a liveable, and lovable city. Worthy old parts were preserved while modernity was integrated. I like Barbara Ludwig very much and wish her good luck in the election.
Challenges for Chemnitz: Challenges are, for example, that Chemnitz houses the reception centre for asylum seekers in Saxony. Until recently, the only one in Saxony. The mayor created a balance to prevent escalations. By balancing the relevant state bodies and civic organizations. Not too much yield and not too much pressure. Controls and assistance. With the help of the police and public order authorities. I am not personally acquainted with her. But I am constantly interested in what happens in the city, the state and the world.


Nominated by Wolfgang B., Chemnitz:
Beste Bürgermeisterin. Starkes soziales Engagement, entscheidungfreudig, kompetent. Sie hat es verdient Bürgermeisterin des Jahres 2018 zu werden. Ich wünsche mir. dass sie weiterhin unsere Stadt als erste Person führt und ihren Kurs so weiterführt.

Translation by Google:
Best mayor. Strong social commitment, decisive, competent. She deserves to become mayor of the year 2018. I wish. that she continues to lead our city as its first citizen and to continue her mission.


Nominated by Silke W., Chemnitz:
She is doing, what she can and she can, what she do! One of the best mayors.
Challenges for Chemnitz: Asylum seekers are welcome. Family and Culture are important.


Nominated by Sylvia A., Chemnitz:
Weltoffene Stadt, bürgernah. Modernes Verkehrskonzept. Kultur und Sportvördernd. Ausbau und Modernisierung umweltfreundlicher Straßenbahnen. Hilfe für Flüchtlinge. Neues Bürgercentrum und Fußballatadion. Regelmässige Bürgerversammlungen, Sprechstunden.

Translation by Google:
Cosmopolitan city, close connection to the citizens. Modern traffic concept. Suport for culture and sport. Expansion and modernisation of environmentally friendly trams. Help for refugees. New citizens centre and football stadium. Regular town hall meetings. Regular public surgeries.


Nominated by Udo F., outside Germany:
Diese Frau ist stark und intelligent. Sie setzt sich für eine gerechte und weltoffene Stadt ein.

Translation by Google:
Mayor Barbara Ludwig is strong and intelligent. She is committed to a fair and cosmopolitan city.