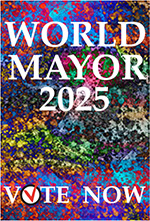 WORLD MAYOR 2016
The 2016 World Mayor Prize will be awarded to a mayor who has provided immigrants with the facilities to contribute to the city's society, economy and culture. The City Mayors Foundation is looking for mayors who have recognised that people, whatever their origin, status or background, are the greatest capital the world has to offer. This year's World Mayor Project will identify mayors whose cities have done the most to welcome immigrants and have used their skills to enrich and diversify society culturally, economically and socially. James Kenney, Mayor of Philadelphia, USA, has been nominated for the Prize. |||


---
FRONT PAGE
About World Mayor
City Mayors Foundation
Email
worldmayor@gmail.com
Tel: +44 20 8439 7978





WORLD MAYOR 2018
• VOTE NOW
• Shortlist 2018

• Longlist 2018
• Raison d'être
• World Mayor history
• World Mayor Prize
• Code of Ethics
• Criteria
• Meet the Press
---
WORLD MAYOR 2016
• Results 2016
• Project 2016

• Shortlist 2016
• Longlist 2016
• Code of Ethics
• World Mayor Prize
• World Mayor Histor
y
• Raison d'être
INTERVIEWS WITH
• Mayor of Athens
• Mayor of Lahr
• Mayor of Mechelen
TESTIMONIALS
• Mayor of Aleppo
• Mayor of Amstelveen
• Mayor of Athens
• Mayor of Cologne
• Mayor of Gdansk
• Mayor of Grande-Synthe
• Mayor of Hettstedt
• Mayor of Lahr
• Mayor of Lampedusa
• Mayor of Lesbos
• Mayor of Mechelen
• Mayor of Philadelphia
• Mayor of Schwäbisch Gmünd
ESSAYS BY
• Mayor of Aleppo
• Mayor of Amstelveen
• Mayor of Athens
• Mayor of Gdansk
• Mayor of Lahr
• Mayor of Mechelen
• Mayor of Schwäbisch Gmünd
PROFILES OF
• Mayor of Amstelveen
• Mayor of Athens
• Mayor of Cologne
• Mayor of Gdansk
• Mayor of Grande-Synthe
• Mayor of Lahr
• Mayor of Lampedusa
• Mayor of Lesbos
• Mayor of Mechelen
• Mayor of Schwäbisch Gmünd
---
WORLD MAYOR 2014
WORLD MAYOR 2012
WORLD MAYOR 2010
WORLD MAYOR 2008
WORLD MAYOR 2006
WORLD MAYOR 2005
WORLD MAYOR 2004
Nominations for
James Kenney
Mayor of Philadelphia (USA)

Nominated by Judith B.-B. (HIAS), Philadelphia:
For the past 18 years, James Kenney has been a leader, first as a Councilman and now as Mayor, in recognizing the contribution of immigrants and refugees to our City. As a Councilman, he spearheaded the first hearings on immigration, and urged the City to develop a policy to serve all foreign-born, regardless of status. He has been a constant presence at ethnic celebrations and advocacy events. Most recently, Mayor Kenney helped alleviate the fears of immigrants of police by ensuring that police focus on stopping crime and not on enforcing civil immigration laws by turning those stopped by police over to federal authorities.
Contributions: Philadelphia stabilized its population due to increased numbers of immigrants and refugees moving into the City. The majority of new small businesses are started by immigrants and refugees, adding to the economy and tax-base. Immigrants make many cultural and professional contributions. As a city with many medical and educational institutions, immigrants bring new skills, languages and approaches as they enter the workforce of these institutions. Immigrants and refugees have also stabilized our public school populations, and in some cases, have created a culture of learning and teacher respect that "native" Americans were beginning to loose.
Challenges: Our Mayor does many things to elevate the stature of immigrants and refugees and render them part of the fabric of our city. These include
1. Ensuring that municipal services are available to non-English speakers through use of telephone and in-person interpretation. The Mayor has devoted a staff members to ensure language access and review departmental procedures. He has set up an Office of Immigrant Affairs that will coordinate services and support community groups working with immigrants and refugees.
2. Promoting immigrant trust in the police and law enforcement by ensuring that local law enforcement will not enforce immigration laws, but focus on crime.
3. Creating "community schools" where a variety of health and social welfare services will be delivered through K-12 schools, which are more accessible to immigrants and refugees.
4. Speaking publically about welcoming refugees, including holding a press conference on World Refugee Day and welcoming Syrians to the region, while speaking out against prejudice.
5. Appointing former refugees and immigrants to city posts: the head of our City Law Department is a former Congolese refugee and the assistant director of the Office of Immigrant Affairs is an Indonesian immigrant.
6. Creating the first "International Unity Cup" competition where teams representing various nationalities/countries can compete in Philadelphia, bringing an excitement and awareness of the many nationalities that live in the city. The number of teams which signed up was so large, the sign-up lasted only two days!