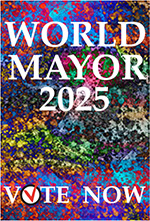 FRONT PAGE
About World Mayor
City Mayors Foundation
Email
worldmayor@gmail.com
Tel: +44 20 8439 7978





WORLD MAYOR 2018
• VOTE NOW
• Shortlist 2018

• Longlist 2018
• Raison d'être
• World Mayor history
• World Mayor Prize
• Code of Ethics
• Criteria
• Meet the Press
---
WORLD MAYOR 2016
• Results 2016
• Project 2016

• Shortlist 2016
• Longlist 2016
• Code of Ethics
• World Mayor Prize
• World Mayor Histor
y
• Raison d'être
INTERVIEWS WITH
• Mayor of Athens
• Mayor of Lahr
• Mayor of Mechelen
TESTIMONIALS
• Mayor of Aleppo
• Mayor of Amstelveen
• Mayor of Athens
• Mayor of Cologne
• Mayor of Gdansk
• Mayor of Grande-Synthe
• Mayor of Hettstedt
• Mayor of Lahr
• Mayor of Lampedusa
• Mayor of Lesbos
• Mayor of Mechelen
• Mayor of Philadelphia
• Mayor of Schwäbisch Gmünd
ESSAYS BY
• Mayor of Aleppo
• Mayor of Amstelveen
• Mayor of Athens
• Mayor of Gdansk
• Mayor of Lahr
• Mayor of Mechelen
• Mayor of Schwäbisch Gmünd
PROFILES OF
• Mayor of Amstelveen
• Mayor of Athens
• Mayor of Cologne
• Mayor of Gdansk
• Mayor of Grande-Synthe
• Mayor of Lahr
• Mayor of Lampedusa
• Mayor of Lesbos
• Mayor of Mechelen
• Mayor of Schwäbisch Gmünd
---
WORLD MAYOR 2014
WORLD MAYOR 2012
WORLD MAYOR 2010
WORLD MAYOR 2008
WORLD MAYOR 2006
WORLD MAYOR 2005
WORLD MAYOR 2004
WORLD MAYOR 2016
The City Mayors Foundation has invited the mayors shortlisted for the 2016 World Mayor Prize to contribute their thoughts on the challenges faced by and opportunities offered to their communities following the arrival of hundreds, if not thousands, of refugees and migrants from war zones and desaster-torn regions of the world. Below Pawel Adamowicz, Mayor of Gdansk, Poland, explains his city's Immigrants Integration Model and his beliefs in Inclusion not Exclusion.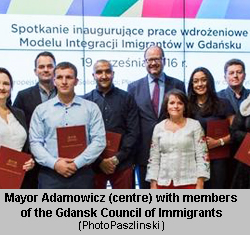 Essay by Pawel Adamowicz
Mayor of Gdansk, Poland
I come from Gdansk, a city located in the North of Poland, on the Baltic Coast. It is the city where the Solidarity movement was born. And where Lech Walesa – the historical leader who led the peaceful Solidarity movement against the communist regime lives.

Being a mayor of a city with such a heritage is an obligation. An obligation to share our experience and to remain true to our heritage of freedom, cooperation and democracy.

Poland is almost a homogenous country, with small national minorities. At the same time, it is a country that was dramatically affected by the World War II. It lost a part of its territory in the East and gained in the West. Millions lost their life and many were forced to change their place of living. Gdansk is a city, where almost all the population has been changed after the war. Almost every resident of Gdansk has a painful experience of exile or losing home in his or her family history. This is a part of our heritage and we need to find ourselves in a fast-changing world that brings us new challenges.

Gdansk is the first city in Poland – and one of the first in Central and Eastern Europe – which prepared its own local program for the integration of immigrants. The Gdansk Immigrants Integration Model that we set up aims at supporting them and making them feel at safe, making them feel at home. The Council of Immigrants composed of 12 immigrants living in Gdansk is an important part of our support structures for Immigrants. They come from very different countries, like Germany, Ukraine, Russia, Syria and even Colombia. All of them selected Gdansk as their place for living.

Gdansk is proud of its heritage and wants to continue in this direction by building more open and more inclusive society.

I believe that today, in these difficult and turbulent times we need to lead a peaceful revolution, another one after the Solidarity movement in the 80s. Today we cannot pretend there is no problem of people who lost their homes, who suffer from war and exile.

Ukraine, our neighbouring country, is de facto in the state of war with Russia. Today in my city we are hosting around 20 000 Ukrainian people, as well as some groups from Chechnya. We prepare our education system for integrating immigrants. We also build different support structures and access to public services. The goal is to integrate them with the society. To include, not to exclude.

I think that the current global challenges are the real test for our humanity and our Christian values. Cities and mayor have a special tasks and duties here. We have to face the wave of fear, ignorance, stereotypes and anti-immigration populism. Mayors need to send a strong message against it.

While newspapers all over the world are writing about the international statesmen's difficulties in managing the crisis in the Mediterranean, in Africa or in the Eastern Ukraine, we, as local administrators, are committed to creating new opportunities. Fortunately, we are not alone. We have allies, such as NGOs, people of good will, some bishops and priests, and media. We are building on the experiences of cities and regions in Germany, Italy, Spain and other European countries. We also have a strong support from our friends in the European institutions, including the European Committee of the Regions, of which I am the member.

It is fascinating to see how fruitful could be the dialogue between local authorities and how sincere partnerships - human, economic or political - can be facilitated by citizens across borders.

When abroad, I am often asked about the national government's policy towards immigration or refugees, since it is well known to the world that our government does not want to invite refugees to Poland and does not accept the quota proposed by the EU. Despite declared Christian values, they ignite anti-refugees fears, which divide Polish society. I find this division painful and unnecessary.