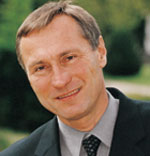 Jean-Marie Bockel, Mayor of Mulhouse, eastern France, and 2004 World Mayor finalist for Europe




FRONT PAGE
About us

The 2010 results
The 2010 project
The 2010 finalists
Code of Ethics
The World Mayor Prize

The 2008 results
The 2008 project
The 2008 finalists
The World Mayor Award

The 2006 results
Methodology
The 2006 finalists
The World Mayor Award

The 2005 results
Contest methodology
List of finalists
The World Mayor Award

Mayor of Athens
Mayor of Guatemala City
Mayor of Mississauga
Mayor of San Fernando
Mayor of San Francisco

Mayor of Athens
Mayor of Guatemala City
Mayor of Mississauga
Mayor of San Fernando
Mayor of Vienna

Comments on finalists from The Americas
Comments on finalists from Europe
Comments on finalists from Asia, Australia and Africa
Comments on Addis Ababa
Comments on Antananariva
Comments on Athens
Comments on Atlanta
Comments on Belo Horizonte
Comments on Bonn
Comments on Guatemala City
Comments on Karachi
Comments on London
Comments on Melbourne
Comments on Mississauga
Comments on Rio de Janeiro
Comments on Rome
Comments on San Fernando
Comments on San Francisco
Comments on Toronto
Comments on Vancouver
Comments on Vienna

Mayor of Addis Ababa
Mayor of Antananarivo
Mayor of Athens
Mayor of Belo Horizonte
Mayor of Bonn
Mayor of Ekaterinburg
Mayor of Guatemala City
Mayor of Innsbruck
Mayor of Karachi
Mayor of Kiev
Mayor of Melbourne
Mayor of Mississauga
Mayor of Munich
Mayor of Rhodes
Mayor of Rome
Mayor of Tshwane
Mayor of Vienna

The 2004 contest
List of all 2004 finalists
Edi Rama wins 2004 award
People ask - Edi Rama replies
Why we voted for the Mayor of Tirana
Why we voted for the Mayor of Mexico City
History of Tirana

Front Page
Site Search
About City Mayors
Mayor Jean-Marie Bockel:
Mulhouse in 2004

Jean-Marie Bockel is Mayor of Mulhouse and president of the urban area of Mulhouse-South Alsace. He is also president of the Association of Mayors of large cities in France.

He became Mayor in 1989. Now, in his third term of office, he has committed himself to a number of future projects, including urban renewal for the city of Mulhouse (population 112,000) and the urban area of Mulhouse-South Alsace (population 174,000).

Besides the urban renewal initiatives, the other objectives involve the restoration of the city's old quarters, improving security and furthering sustainable development.

Urban renewal
TramWay, one of the most far-reaching transport projects ever devised for the area, is going to be realised in Mulhouse by late 2005. Offering tramway and rail travel, it will initially provide an urban tramway and feeder service. From 2008 onwards TramTrain carriages will be running on SNCF (French Railways) tracks outside the city on an initial 20 kilometre-long line.

As an important component of the development of Mulhouse and its surrounding areas, TramTrain will make a major contribution to public transport. With the arrival of the French super fast trains TGV East in 2007 and TGV Rhin-Rhône in 2010, the city's railway station area will be transformed into a major rail hub, serving, in addition to eastern France, parts of Germany and Switzerland.

In his role as president of the Association Trans Europe TGV Rhin-Rhône-Méditerrranée, Mayor Bockel is playing a leading part in the realisation of this crucial transport scheme.

He is convinced that these major transport enterprises will benefit the city economically. To further strengthen the city's business base, his administration has given the go-ahead for a commercial development in the Porte Jeune area. The creation there of a 20,000 square metre commercial space, to be finished by 2006, will be in addition to other urban renewal undertakings.

A number of schemes are to be carried out jointly with the University of Haute Alsace. These centre around the building of a new faculty for economic sciences, social and law studies on the site of an old foundry that was once one of Mulhouse's great enterprises.

The National Automobile Museum and the French Railway Museum, both located in Mulhouse, are also to be the subject of major modernisation.

Restoration of the old quarters
The Coteaux area of Mulhouse will be the target areas for several years of renewal work involving built infrastructure and public open spaces. Work is also being carried out in the Wager area with the restoration of a number of buildings and, after demolition, the construction of living spaces with facilities to satisfy today's requirements. A further important project is being finalised in Mulhouse's Bourtzwiller district. Furthermore, as in some 49 other French cities, urban areas built between 1850 and 1910 are to benefit from a government scheme to instil new life into them.

These programmes are being conducted in close cooperation with the people living in the areas. In fact , Mayor Bockel has been awarded the Marianne d'Or 2004 for this specific type of conduct by local government. Marianne d'Or is an award bestowed by central government on local authorities for outstanding practises.

Improving security
On security, Mayor Bockel has called for a 'general mobilisation against crime'. Furthermore, several initiatives have been launched as part of an agreement signed in 2002, among others by the Mayor and the French Interior Ministry. For example, CCTV cameras have been installed in many streets in Mulhouse. Some 16 cameras have been placed in the city centre, with another 23 monitoring other parts of the city.

Since May 2004, Mulhouse's municipal policemen have been armed. They now operate in all parts of the city on extended shifts. In order to improve crime prevention, each area of the city has seen a re-organisation of the various bodies responsible for security.

Sustainable development
The Mulhouse Urban Area was recently awarded the Blue Ribbon for sustainable development in recognition of its adherence to Agenda 21 of the United Nations Environment Programme (UNEP).

In 2003, within a new urban agenda, a transport plan was put into place to improve access to the city centre, to equip Mulhouse with modern and efficient public transport as well as to make the city more pedestrian-friendly, and to promote alternative forms of transport such as bicycles.

The city has also paid special attention to maintaining the quality of drinking water extracted from the underground water table, which is distributed chemical-free to users.

Finally, several public construction projects are being carried out within a strict environmental framework and in this regard a local energy conservation body has been set up to consult with interested parties from the private and public sectors.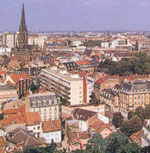 Mulhouse, the capital of Upper Alsace, with its imposing cathedral

Introducing
World Mayor 2006
The World Mayor project is now in its third year. As in 2004 and 2005, this year's World Mayor will again be seeking out mayors who have the vision, passion and skills to make their cities amazing places to live in, work in and visit. The World Mayor project aims to show what outstanding mayors can achieve and raise their profiles. It honours those who have served their communities well and who have made contributions to the well-being of cities nationally and internationally. The most outstanding mayor of 2006 will be presented with the World Mayor award.

In 2004, Edi Rama, Mayor of Tirana, won the Award. The 2005 winner was Dora Bakoyannis, Mayor of Athens and now Greek Foreign Minister.

Between January and May each year, citizens from across the world are invited to nominate mayors for the World Mayor Award. They are also asked to provide reasons for their choice. After the close of the nomination stage, City Mayors, the organisers of the contest, prepare a shortlist of mayors who go forward to the second round of the World Mayor contest. In 2006, the list of finalists includes 50 mayors from North and South America, Europe, Asia, Australasia as well as Africa.