WORLD MAYOR PRIZE WINNER: Mayor of Rotterdam (Netherlands) | Mayor of Grigny (France) | Mayor of Ancona (Italy) | Mayor of Mechelen (Belgium) | Mayor of Calgary (Canada) | Mayor of Bilbao (Spain) | Mayor of Mexico City (Mexico) | Mayor of Cape Town (South Africa) | Mayor of Melbourne (Australia) | Mayor of Athens (Greece) | Mayor of Tirana (Albania)

ON OTHER PAGES: Front page | About World Mayor 2023 | The 2023 Longlist | World Mayor History | Nomination form | World Mayor Sculpture | Code of Ethics | Universal qualities of mayors | Press & Media


World Mayor History
2004 to 2021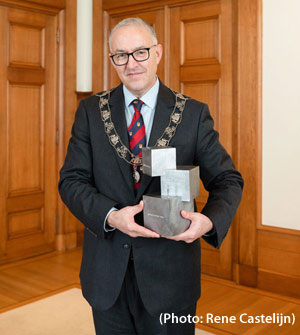 Ahmed Aboutaleb,
Mayor of Rotterdam, awarded
the 2021 World Mayor Prize
Rotterdam Mayor from 2009 to date
Ahmed Aboutaleb, one of the longest-serving and most respected mayors in Europe, has led the City of Rotterdam, Netherlands, since 2009 with courage, patience and humility. He sometimes describes himself half-jokingly as the secretary-general of the United Nations of Rotterdam. The Dutch name for 'mayor' is 'burgemeester' (master of citizens) but most of his fellow citizens refer to Mayor Aboutaleb as 'burgervader' (father of citizens). During all his years as Mayor, Ahmed Aboutaleb has always acted as a father of a very large family.

In a public interview for World Mayor, Mayor Aboutaleb was asked how Rotterdam integrates thousands upon thousands of newcomers to the city. He replies to the questioner: "In a city of 175 different nationalities it is important that people get to know each other, get to meet. Meeting helps us to learn to understand each other better, and benefits peace and social cohesion in the city. That's why I've defined 'meeting' as one of my three priorities for my third term as mayor."

Mayor Aboutaleb was also asked how he himself felt as an immigrant. The Mayor replied: "All migrants here have to work harder to build a life and prove themselves. On the one hand, this is due to the lack of a network, which traditionally isn't a problem for a Dutch person without a migration background. For example, they have a network through their parents." IN GREATER DETAIL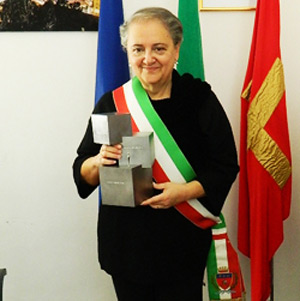 Valeria Mancinelli,
Mayor of Ancona, awarded
the 2018 World Mayor Prize
Ancona Mayor from 2013 to date
Valeria Mancinelli, Mayor of Ancona, Italy, has been awarded the 2018 World Mayor Prize. Under her leadership, Ancona, the capital of the March region on the Adriatic coast, has enjoyed strong economic growth. When Mayor Mancinelli took office in 2013, the all important shipbuilding sector was facing enormous difficulties, which badly affected the many small businesses in the city. The newly elected Mayor was determined to revive the industry, that can trace its history back to Roman times. Valeria Mancinelli set off by creating a cross-city partnership involving the public and private sectors as well as the working population. From the outset, Mayor Mancinelli has kept the public fully informed about the challenges ahead, her goals as well as the successes achieved and difficulties encountered.

As a mayoral candidate, Valeria Mancinelli made no exaggerated promises. Instead she pledged an economic recovery consisting of small steps. During the Mayor's first term in office, roads were resurfaced, parks and green spaces cleaned up and the city's numerous tourist attractions, including its famed beaches, have again won top-rated reviews. And the shipbuilding sector, once thought moribund, has seen a revival. Each step has made Ancona a little bit more liveable, each step has increased people's confidence in the future of the city.

In July 2018, Valeria Mancinelli was re-elected as mayor of Ancona (population 101,000), a port city on the Adriatic Sea. Her approach to politics and achievements in office during her first five-year term built up trust with local people and enabled her to win convincingly against a countrywide tide of nationalistic populism. The Mayor has focussed unremittingly on practical solutions and on an honest relationship with residents. Most notably, she was instrumental in reviving the virtually moribund shipbuilding sector and other manufacturing enterprises.

From a family, which was in the resistance against the Nazi-Fascism, Valeria Mancinelli stepped away from political positions for decades to focus on her work as a lawyer. She became a successful specialist in administrative law. She says she does not regret that choice because it is important to be economically independent from politics and its offices in order to give to the public world rather than receive from it.

When Valeria Mancinelli became mayor, local opinion was pessimistic about the prospects for an upturn in the port industries. Mayor Mancinelli was determined to revive them and to boost other manufacturing sectors. She created strong partnerships between public and private sectors as well as the working population. Success has been achieved. The port is busy again and companies have strong order books.

"The presence of work is a welfare condition for a community and a richer community is also safer and less fragile. Work must also be a priority of a mayor who does not have many direct levers to create it but can favour the conditions for this to happen." IN GREATER DETAIL



Bart Somers,
Mayor of Mechelen, awarded
the 2016 World Mayor Prize
Mechelen Mayor from 2001 to date
Bart Somers, the Mayor of Mechelen, Belgium, has been awarded the 2016 World Mayor Prize. Since becoming mayor in 2001, he has transformed a rather neglected city into one of the most desirable places in Belgium. Over the same period, he has achieved that residents of North African origin are recognised and see themselves as full citizens of Mechelen. Mayor Somers frequently reminds everybody in his city that citizenship provides entitlements but also involves obligations.

Bart Somers has been Mayor of Mechelen since 2001. From 2003 to 2004, he was also Minister-President of the Belgian region of Flanders and, since 2014, Bart Somers sits in the Flemish regional parliament for the Flemish Liberals and Democrats (VLD). He is a native of Mechelen and holds a law degree from the Catholic University of Leuven, the country's oldest academic institution. The Mechelen Mayor has spent most of his professional adult life close to or in politics. In the early nineties, he was deputy editor of the VLD publication 'Burgerkrant' (citizens newspaper). Later he became party spokesman and from 2004 to 2009, was party president. From 1994 to 2000, he was also a member of the Mechelen municipal council.

Long before the flow of refugees from the Middle East and Africa became officially a 'crisis' in the summer of 2015, Bart Somers recognised the utmost importance of integration. In an interview with World Mayor, the Mechelen Mayor says "What counts is not your origin, but your future." With more than 128 different nationalities, Mechelen is one of the most diverse cities in Europe but it is also a city where first and foremost everyone is a citizen of Mechelen. The Mayor, a liberal by conviction and politics, supports personal freedom within a framework of fundamental human values. In the interview - the questions were asked by an international audience - Bart Somers says: "If we consistently, not selectively, put our fundamental principles - I am talking equal opportunities, non-discrimination, in addition to equality between men and women and freedom of speech etc - into practice, then we make the model of rule of law and democracy more appealing, more attractive than extremist alternatives." IN GREATER DETAIL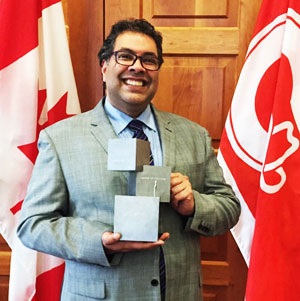 Naheed Nenshi,
Mayor of Calgary, awarded
the 2014 World Mayor Prize
Calgary Mayor from 2010 to 2021
Mayor Naheed Nenshi, the winner of the 2014 World Mayor Prize, is the most admired mayor of any large Canadian city. His vision how a city should plan for its future has attracted the attention of urban thinkers from across North America. Since taking office in 2010, he has become the most admired mayor of any large Canadian city. He is an urban visionary who doesn't neglect the nitty-gritty of local government.

For many in North America and indeed Europe, Mayor Nenshi is a role model for decisive management, inclusivity and forward planning. He has also demonstrated strong leadership during disasters like the Alberta floods of 2013 and the power outage, which affected large parts of the downtown area of the city. While Mayor Nenshi rejects being labelled progressive or indeed anything else - in the World Mayor interview he said: "I really believe that this kind of categorization alienates people and keeps them from participating in the political process." – he has not shied away from challenging conservative views from some members of Alberta's provincial government.

In 2010 Naheed Nenshi became the first Muslim mayor of a major North American city after his 'Purple Revolution' captured the imagination of voters from right across the political spectrum. Some six weeks before the 18 October 2010 elections, opinion polls only credited Naheed Nenshi with eight per cent support but extensive use of social media combined with tireless door stepping - his supporters even organised coffee parties in their homes where Nenshi explained his vision - propelled him to victory on election day. Three years later the Mayor was re-elected with almost three quarters of votes cast. IN GREATER DETAIL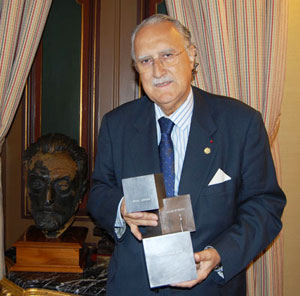 Iñaki Azkuna,
Mayor of Bilbao, awarded
the 2012 World Mayor Prize
Bilbao Mayor from 1999 to 2014
When in the early 1990s Bilbao decided to spend almost US$230m of public money on a museum for modern art, many doubters accused the city of squandering precious resources. But developments since then have silenced the critics. Annual visitor numbers to the city increased from 100,000 before the museum's opening to more than 700,000 in 2011. The Guggenheim is estimated to have contributed some €2.4 billion (US$3.1bn) to the Basque Province's GDP since October 1997.

Since his election, Mayor Iñaki Azkuna used the high profile of the Guggenheim Museum, designed by architect Frank Gehry, to rebuild the city. The Bilbao Guggenheim has become as iconic as the Sydney Opera House.

Unlike most cities in Spain and Europe, Bilbao is virtually debt-free. During the years of prosperity in the early part of this century, the city, under the administration of Iñaki Azkuna, steadily reduced its debt until it was paid off in 2011. Iñaki Azkuna died in March 2014. IN GREATER DETAIL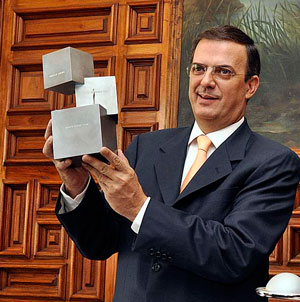 Marcelo Ebrard,
Mayor of Mexico City, awarded
the 2010 World Mayor Prize
Mexico City Mayor from 2006 to 2012; Foreign Minister of Mexico from 2018 to date
Marcelo Luis Ebrard Casaubón, Head of the Federal District Government of Mexico City, was awarded the 2010 World Mayor Prize. The mayor was a liberal reformer and pragmatist who never shied away from challenging Mexico's orthodoxy. He championed women's and minorities rights and became an outspoken and internationally respected advocate on environmental issues.

Mayor Ebrard was involved both as citizen and public official in three crises: the 1985 earthquake, the environmental catastrophe of the 1980s, and more recently the swine flu outbreak of 2009 – which he managed to international acclaim. He was responsible for the passing of laws allowing same-sex marriage and abortion in what is a deeply Catholic country. Proud of being a public servant, Ebrard recognised that there will always be a great deal to be done for the people of Mexico City, particularly the poorest. Marcelo Ebrard was appointed Mexico's Foreign Minister in December 2018. IN GREATER DETAIL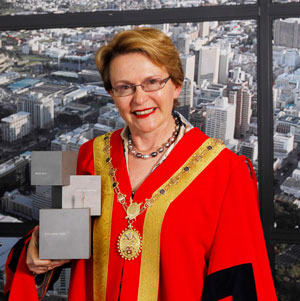 Helen Zille,
Mayor of Cape Town, awarded
the 2008 World Mayor Prize
Cape Town Mayor from 2006 to 2009; Prime Minister of the Western Cape Provice from 2009 to 2019
Helen Zille, Executive Mayor of Cape Town and leader of South Africa's opposition Democratic Alliance, was awarded the 2008 World Mayor Prize. Commentators supporting her nomination said that in a country devoid of present-day role models, this amazing lady was making a difference and giving people there hope: "Her only equals are Desmond Tutu and Nelson Mandela in Southern Africa."

As Mayor of Cape Town, South Africa's legislative capital and leading tourist destination, Helen Zille overcame an aborted attempt by the provincial government to downgrade her office and an attempted coalition coup since her election in March 2006. Elected as leader of the opposition Democratic Alliance, with a background as a provincial and national legislator behind her, she was a finalist for South African Woman of the Year in 2003.

Zille's role in public life began with a stint as political correspondent for the Rand Daily Mail, South Africa's leading liberal newspaper during the apartheid era. While at the paper, she emerged as a leading anti-apartheid critic, famously exposing the circumstances behind Steve Biko's death under police custody in 1977, which was claimed to have been as a result of self-inflicted wounds. She also made a name for herself at the height of apartheid as a member of the Black Sash white women's resistance movement and as a peace activist in her adopted city of Cape Town. She then worked in public affairs as a public policy consultant and as director of communications for the University of Cape Town.

Helen Zille was Premier of South Africa's Western Cape province from May 2009 to May 2019. IN GREATER DETAIL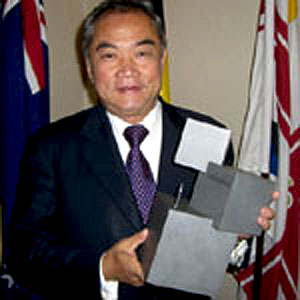 John So,
Mayor of Melbourne, awarded
the 2006 World Mayor Prize
Melbourne Mayor from 2001 to 2008
John So, Lord Mayor of Melbourne, was awarded the 2006 World Mayor Prize. Melbourne's longest serving and first elected Lord Mayor, John So has been viewed as a positive symbol of diversity in Australian public life. Elected to a second term in 2004, the affection shown for Mayor So in the Victoria state capital has even manifested itself in a tribute record, possibly the first city leader to enjoy 'cult status'. So is widely accredited with the successful staging of the 2006 Commonwealth Games and his assiduous efforts to promote the city abroad.

The Mayor was also held up as an immigrant success story. Not many mayors can claim to have had a record made in their honour or a t-shirt proclaiming their name across residents' chests (the 'John So – he's my bro' garment, which was also the record's title). As a mayor of Asian heritage in the strongly diverse city, Mayor So championed links with other Asian cities, emphasising sister city relations with Osaka, Japan and Tianjin, China and working within the Business Partner City Network of 12 global cities. Melbourne is Australia's second largest city and describes itself as the nation's cultural capital, though its prominence as a financial centre is undisputable. As mayor, one of John So's aims was to engage with young people and to make sure they know they are a vital part of Melbourne society. He has succeeded. One young Melbournian wrote: "John So has captured the imagination of the people of his city. He has especially done so with young people. Where else in the world do people under 25 cheer and stamp and shout out the name of the mayor?" IN GREATER DETAIL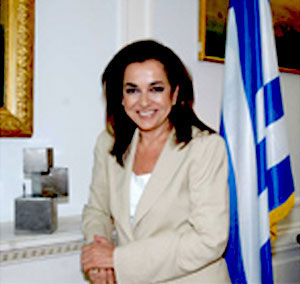 Dora Bakoyannis,
Mayor of Athens, awarded
the 2005 World Mayor Prize
Athens Mayor from 2003 to 2006; Foreign Minister of Greece from 2006 to 2009
Dora Bakoyannis, Mayor of Athens, received the 2005 World Mayor Prize. Dora Bakoyannis, Mayor of Athens, was not only strongly and passionately supported by her own community but also by thousands of voters in other European countries, North America and Australia. Her achievements as Mayor of Athens, including the successful staging of the 2004 Olympics and her fight against terrorism, have made her a heroine of modern Greek politics. She has also gone beyond the Olympic legacy and used her vision to transform the city and make tangible changes for the benefit of its residents, with plaudits from supporters and opponents alike. In February 2006, Dora Bakoyannis was appointed Greece's first female Foreign Minister. IN GREATER DETAIL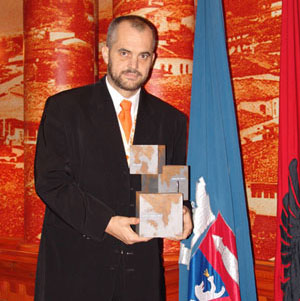 Edi Rama,
Mayor of Tirana, awarded
the 2004 World Mayor Prize
Tirana Mayor from 2000 to 2011; Prime Minister of Albania from 2013 to date
The journey of Edi Rama, winner of the 2004 World Mayor Prize, to the mayor's office in Tirana, the capital of Albania, arguably began in what most would call a raw and rough-and-tumble way inasmuch as, even though he, while still teaching at the Albanian Academy of Arts – admittedly a site of political ferment after the termination of communism and the birth of the Democratic Party in 1990 – had quickly left what he considered a bogus movement, and was doing no more than criticize both the socialists and the democrats in print, someone showed how seriously they took that by lying in wait for him in front of his home and beating him nearly to death. Mr. Rama was in no doubt that his attackers that night in 1997 were sent by then-president Sali Berisha.

When he had finally regained his health, Edi Rama resumed his career as a painter and sculptor in Paris, but returned to Albania in 1998 when his father died, and after a new government under Fatos Nano had assumed power. The country then was the product of half a century of Stalinist dictatorship topped off with ten years of free market indiscipline, and layered with organized crime. The capital itself was mired in the waste of under-served overpopulation, with corruption in the civil service having facilitated the emergence of a chaos of illegal buildings and decaying streets. IN GREATER DETAIL


© Copyright: All content of the City Mayors and World Mayor websites are protected by worldwide copyright. Please contact us if you wish to use any material from the City Mayors, World Mayor or Women Mayors websites.